WHAT EXACTLY IS A QTAC PERSONAL FIRE PROTECTION SKID?
The QTAC™ is mobile rural fire fighting equipment for land owners, land stewards and fire service personnel. Its goal is to prevent unwanted fires from occurring and, if they do happen, to put them out quickly before they escalate into something more significant.
The term QTAC is our shorthand vernacular for "Quick Attack," a term used in the firefighting industry to describe response vehicles that are smaller and lighter than their full-size counterparts, such as engines and water tenders. Quick Attacks are designed and built for immediate response, so they can hopefully knock down a fire before it grows to any significant size.
The QTAC Overview
MTECH, Inc., the parent company of the QTAC product line, received an inquiry from a rancher who asked if we could build a scaled-down fire skid for both a side-by-side UTV and a four-wheel ATV. For years, MTECH has specialized in designing and manufacturing copolymer polypropylene wildland and municipal firefighting equipment—specifically, water tanks, trucks and truck bodies.This particular material is extremely lightweight and durable, an excellent candidate for a quick attack rural fire response unit of this type.
During a prescribed burn on ranch property, an ember sparked a fire on an adjacent piece of property. The electric sprayer in use for mop-up and fire line control wasn't enough to knock down the ensuing spot fire, and before long, it had grown to the point that it required the efforts of several wildland crews and a helicopter to contain. Needless to say, no one can afford to have this happen. We built several small systems for the ranch, and before long, word spread to other nearby ranches, prompting more inquiries and sales. A small, high quality, capable—and affordable—fire response unit for rural land owners hits home with the forester, farmer, rancher and ranchette owner.
And so the QTAC—quick-attack, professional-grade, lightweight rural firefighting equipment for land owners and land stewards—was born.
Our goal with the QTAC product line is simple: Provide land owners with a small, capable fire prevention tool in order to help keep fire under control. For rural folks, the local fire department may be a long ways away. There is no replacement for fire response professionals, but there is no more helpless feeling than watching a fire grow out of control while waiting for first responders to arrive. So often, with the right equipment on hand, significant fires can be avoided.
With the QTAC, you can take steps to help prevent fires from happening by having the system on-site during control burns, vegetation clearing, tree-cutting, and any other land management activities that have the potential to spark a fire.
The QTAC is the perfect tool to have on-site to help prevent an uncontrolled outbreak of fire.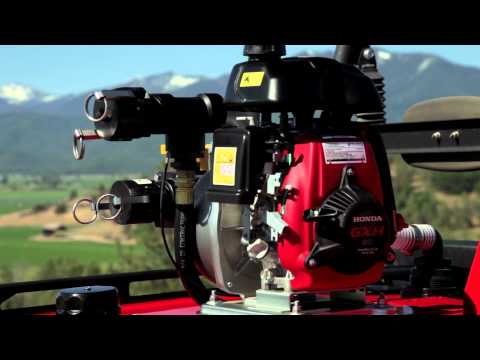 (Choose the 'gear' icon in the lower right-hand corner of the YouTube player and 1080p HD for the highest resolution available.)
QTAC—be prepared.
GO TO: QTAC CONSTRUCTION